Where the East meets the West! This Istanbul 3 day itinerary is a must follow and suggested if you want to see the most of Istanbul in 3 days. I had the opportunity to visit this impressive and progressive city in the late summer where the average temperature was 75 degrees. Perfect for sightseeing and beautiful evening walks. Please note that Turkey is a country that requires visas for many visitors from many countries including United States, Mexico, Canada and more. Click here for a complete list. Please also know that Istanbul is a metropolitan city, but many of its inhabitants are very conservative so women should dress appropriate an avoid short dresses, shorts and exposed shoulders. Many of its religious attractions will also not allow entrance if you are not dressed properly so bring a light jacket or a shall to cover up! Also if you are into shopping bring an extra carry on bag. You will LOVE many things at the Grand Bazaar and wish you had a bigger bag to take everything home in.
DAY 1
We arrived to Istanbul on a Sunday morning. After grabbing a cab (about 50 TL) from the designated airport taxi stops we checked in to the hotel. I recommend taking a quick shower to freshen yourself up and get some energy for the days sightseeing.
A RREPRESENTS THE AREA I BOOKED MY HOTEL
B. Topaki Palace (Museum, 20 TL) Closed Tuesdays. Open 9am- 5pm
Why visit
• World heritage site
• One of Istanbul's most known attractions. Beautiful gardens.
• Once the center of a great empire
Take a cab to Istiklal Avenue

C. Istiklal Avenue (Park and outdoors, Free)
Why visit
• Exquisite pedestrian shopping street and many places to eat
• Have dinner here at one of many local restaurants. We ate at 360 Restaurant. Loved the view and the service. The food is "international" from sushi to steak to pastas! 3:5 for the food. 5 for the view!
• A VERY busy street in the evenings. Be careful with pick pocketters.
• One of the most famous avenues in Istanbul

Take a walk to Taksim Square 5mins
D. Taksim Square (Park and outdoors, Free)
Why visit
• Popular meeting place pay attention to local news if there are any demonstrations or not.
• Busy transportation hub
Take a cab to Ortakoy 8mins
E. Ortakoy (Neighborhood/ Nightlife, Free)
Why visit
• Istanbul's most famous celebrity filled night club is Reina which is in this area.
• Busy transportation hub
DAY 2
One of the things I like to do whenever I go to a new city is to take a full day guided tour around the city. I recommend doing the same whether it is a guide tour with stops or one of the hop-on hop-off bus tours around the city. I feel like doing this gives you a very good idea of the city where certain things are and where you are geographically. I also like to have a guide when I visit important landmarks to learn the history behind what I am visiting. For Istanbul I decided to use True Blue Tour Company to do my Istanbul tour. I found them on Tripadvisor and they had many good reviews and their price point was very reasonable for all that they do. Below is the itinerary for the full day tour package.
PICK UP FROM HOTEL
With True Blue Tours they arrange a direct hotel pick up
09:00-5:30pmFull Day Trip (75 Euro)

Tips
• Get a guided tour of the city. We had a Mercedes sprinter van for 4 people! Talk about 1st class touring!
• Visiting a large city where people do not speak your native language can be intimidating.
Cable Car to Pierre Loti: Enjoy the beautiful view from the cable car as you climb the hill to the cafe named French writer Pierre Loti, birth name Louis Marie Julien Viaud (1850 -1923). This picture was taken from above this hill. Beautiful view!

Rustem Pasha Mosque: It was designed by Mimar Sinan ("Sinan the Architect") for Grand Vizier Rustem Pasha (who married one of the daughters of Suleyman the Magnificent, Princess Mihrimah). Its building took place from 1561 to 1563. The mosque is famous for its exquisite Iznik tiles, set in beautiful floral and geometric designs, which cover not only the facade of the porch but also the mihrab, minbar, walls, and columns.
Cruise on the Bosphoros : The Cruise on the Bosphorus which will give you the best chance to view the finest palaces and the pavalions along the shores.
Rumeli Fortress ( From the sea): The biggest fortification of Istanbul can be seen clearly during our Bosphorus Cruise.
Lunch in local restaurant.
Underground Cistern : Built by Justinian after 532, the Basilica Cistern stored water for the Great Palace and nearby buildings. Lost to memory, it was rediscovered by Petrus Gyllius, who came to Constantinople in search of Byzantine monuments. Gyllius, who noticed that local people got their water by lowering buckets through holes in the floors of their houses, found an entrance and thus put it back on the map.

Blue Mosque (Sultanahmet Mosque): This mosque was built by Sultan Ahmet I during 1609-1616 in the square carrying his name in Istanbul. It is the only mosque in Turkey with six minarets. The central dome is 43 m in height and is 33.4 m in diameter. 260 windows surround the mosque. Due to its beautiful blue, green and white tilings it has been named the "Blue Mosque" by Europeans. The inscriptions were made by Seyyid Kasım Gubari.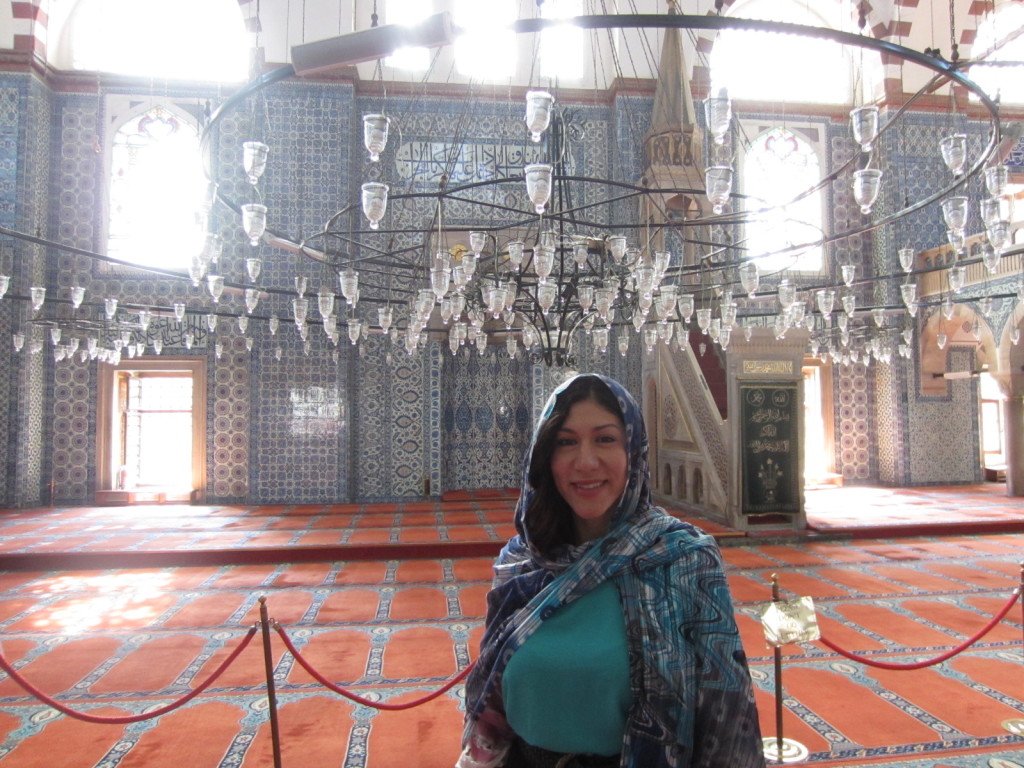 Roman Hippodrome and Obelisk: The ancient Hippodrome, scene of chariot races and the centre of Byzantine civic life, stands in the area that is now in front of the Blue Mosque, and now part of Sultanahmet. Of the ornaments which once decorated it, only three remain: The Obelisk of Theodosius, the bronze Serpentine Column, and the Column of Constantine. Remains of the curved end of the Hippodrome wall can be seen on the southwest side of the three.
DAY 3
Taking the tour yesterday really helped because now we can head to places we did not yet visit or return to areas we liked and want more time in them.
LEAVE HOTEL –
Take Tram Line T1 to Sultanahmet stop
A. Hagia Sophia (Museum, Fee to get in 20 TL) Closed Mondays. Open 9am- 5pm
Why Visit
• Istanbul's most famous attraction
• One of the world's architectural wonders.
• Make this your very first stop of your day. Go early to avoid the crowds.
• Unique site to see two religions under one roof. Quite spectacular!
• Religious site so make sure you are wear appropriate clothing. No bare skin showing.
Take a walk to Sultanahmet Park
B. Sultanahmet Park (Park and outdoors, Free)
Why visit
• Amazing view on Hagia Sophia and the Blue Mosque
• Beautiful park
Take a walk to Grand Bazaar –
C. Grand Bazaar (Shopping, Free) Open 8:30am- 7pm
Why visit
• One of the worlds most famous markets!
• I am making this an early morning shopping trip to buy & head back to hotel to store.
• You will want to buy and bring everything home with you! I did! I bought cool bronze and glass lights for my home!
Take a cab to Eminönü Neighborhood
D. Eminönü Neighborhood (Park and outdoors, Free)
Why visit
• Oldest neighborhood of Istanbul
• The center of the city
Lunch time
Take a cab to Süleymaniye Mosque
E. Süleymanive Mosque (Church, Free)
Why visit
• Second largest mosque in Istanbul
• Masterpiece of star architect Sinan
• Religious site so make sure you are wear appropriate clothing. No bare skin showing.
Take a walk to Beyazit Square – 25'
F. Beyazit Square (Park and outdoors, Free)
Why visit
• Grand open space
• Istanbul's principal meeting place
•
Take a walk to Spice Bazaar – 25'

G. Spice Bazaar (Market. Shopping Free)
Why visit
• Second largest covered shopping complex after the Grand Bazaar.
• Spices, dried fruits and more!
ENJOY THE SUNSET HERE
Take a walk to Galata Bridge – 15'
H. Galata Bridge (Monument, Free)
Why visit
• Istanbul's great landmark
• I am a fan of sunsets and this is an AMAZING place to view it from.
• Stunning view over the Golden Horn
Take a walk to Galata Tower – 15'
I. Galata Tower (Monument, 10 TL) Open 9am – 8pm
Why visit
• The best 360° views of the city
• It is worth the money to go up the tower. Facebook pics!!!
•
END OF DAY 3