Italy is an incredible country with so much to see and do. Imagining spending only a few days would be a travesty, but Italy in two weeks can be quite enjoyable. I have had the fortune to travel to Italy two times this post is about my most recent trip where I revisited certain must see places and explored new places. I have detailed my Italy in two weeks trip below.
I have traveled to Italy in late September and in the spring, both have turned out to be wonderful times to visit. If I had a suggestion for you I would travel in September after schools start and are in session, prices drop, weather remains beautiful and you do not have to deal with the summer crowds.  My tip as the savvy traveler that I am is to look for flights departing and returning on Tuesdays or Wednesdays. I much rather save little money on a flight that leaves on a Tuesday rather than feel I have to travel on a Friday like the rest of the people. The money I save on booking cheap flights is allocated to better hotels and paying for things to do when I get there. If you want to learn more about How To Buy Cheap Airplane Tickets go HERE.  The following is a link to my post where I detailed a 3 day itinerary of Rome. Click here to read up on your 1st 3 days in ROME. Then you can continue with the remaining days of my Italy in two weeks itinerary.
Day 4 Italy
From Rome on our 4th day we took a train from Rome Central train station to Naples. Although I have visited Naples before on a past trip to Italy, on this one it didn't make the cut and we simply arrived to head to the port to catch a ferry to the island of Capri. I suggest you take a hydro ferry for an additional $10-15 EURO more. The hydro ferry takes about 45 minutes to arrive. If you are prone to sea sickness you will defiantly want to make sure you take proper medication because it sure can get bumpy! Once you arrive to Capri you will find super cool convertible taxi like this one
Make sure to ask if your hotel offers free service pick up from the port to the hotel, ours did so we hopped in. For our two night stay in Capri we stayed at the Hotel Weber Embassador. We loved it! Clean rooms, beautiful location and great service! I booked it via www.Hotels.com. 
After check in we used our first night in Capri to head downtown for a stroll and some dinner. Food in Capri is quite expensive and in my opinion tasteless. I stuck to a wine and gelato diet again, but if you must eat, eat the seafood!
Day 5 in Italy and Day 2 in Capri
This day we chartered a private boat tour Around the island we used . This was by far one of the coolest and most relaxing experiences! A must do! We sailed through the whole island sipping lemincello and stopping in the middle of the Mediterranean, to jump in for a swim. We went to the famous blue grotto which is the biggest tourist trap. Instead of waiting for hours to get in and paying a hefty cost our driver took us to our own grotto.  I couldn't resist to jump into the Mediterranean ocean. My swimsuit matched the color of the ocean…turquoise blue!
Afterwards we grabbed lunch and headed up to the highest point in Capri Mount Solaro. You have a choice of hiking up or take the chairlift up to the summit. We took the chairlift…much easier! The view for up here is breathless!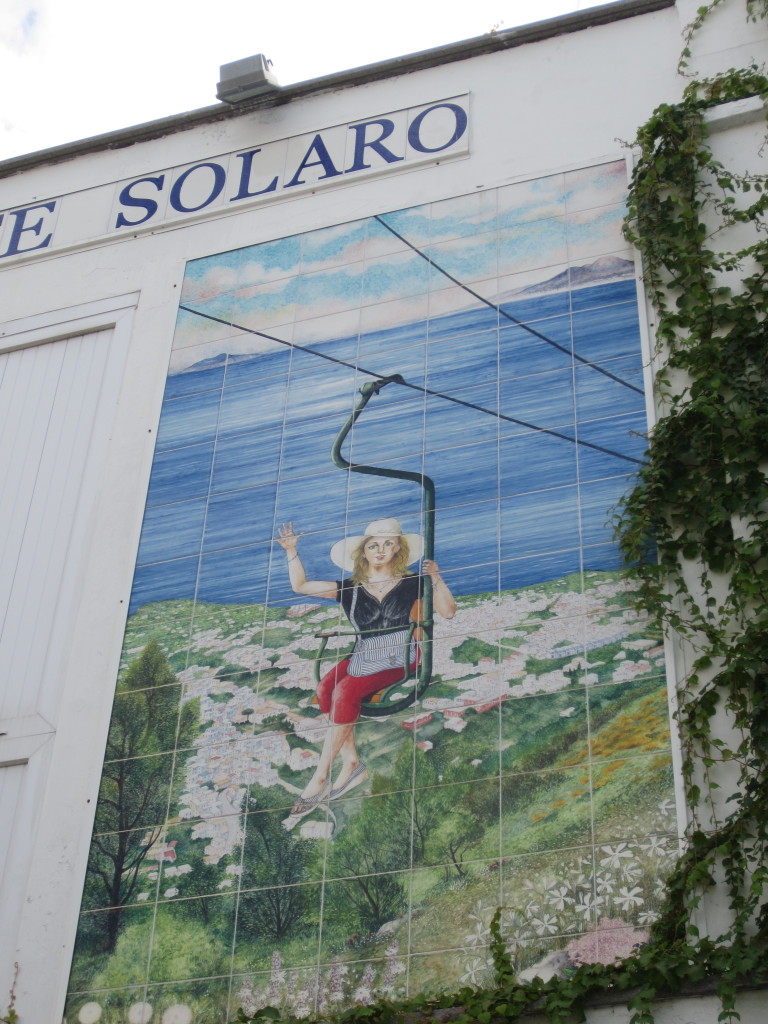 Day 6 in Italy Day 3 in Capri.
This morning we woke up to do some swimming in the pool and had lunch downtown. We said our goodbyes to this enchanting island and took the ferry back to Naples and from Naples took the high speed bullet train Trenitalio check out my blog about it here. 
To Florence. We arrived in Florence in the evening checked into our hotel and went on a night stroll through the stresses. Florence is a very diverse city. Millions of college students, foreigners have called this their home. You can find a variety of great restaurants, good food and great prices oh and tons of great shopping! Florence is known for its leather products make sure you do your research before hand to know what type of leather is real and better.
Day 7 Italy  Florence Day 2
We used this day to head to Pisa and Lucca and evening in Florence. Take the local train from Florence main station to Pisa. In Pisa of course the must see sight is the leaning tower of Pisa. You have to see it to believe it. Pretty incredible sight to see it leaning so much. Take your cheesy pictures and then from Pisa we took a local bus that you can catch right on the main street in front of the Leaning Tower to Lucca
Lucca is a beautiful medieval town that still has its original walls standing. It is all walled in. You can rent bikes for a few euro from many vendors and bike around the city. That is what we did and had an amazing time!
We spent a few hours here (which is all you will need) and then took the bus back to Florence to arrive in time well before sunset.
If you do not know already, I am a major sucker for sunsets. I love them! I think they are magical and beautiful. Every place I travel too I try to schedule a day to watch one from some of the most beautiful points in the city. In Florence I decided to head to Piazzale Michelangelo which is a famous square with a magnificent panoramic view of Florence, Italy. It is very romantic and anyone could easily fall in love with the city and with the person you are with.
Day 8  Florence
Since this was my second trip to Florence I didn't revisit many of the museums like I had in the past, but if it your first trip then you must go see Michelangelo's sculptured master piece: David. This is housed at Accademia di Belle Arti Firenze  We spent this day in Florence checking out all the shopping, visiting the many italian shops. I also suggest you go see The Ponte Vecchio the Medieval stone closed-spandrel segmental arch bridge over the Arno River, in Florence, Italy.
Day 9  Cinque Terre
One of my friends suggested I visit Cinque Terre when he heard I was going to be traveling to Italy and thank goodness I listened! I had no idea what the Cinque Terre was and in my original Italy in two weeks plan it was not included and did not think I would have the time for it, but good thing we went!  The Cinque Terre is a rugged portion of coast on the Italian Riviera. "The Five Lands" is composed of five villages: Monterosso al Mare,Vernazza, Corniglia, Manarola, and Riomaggiore.I didn't have too much time to dedicate to the area we decided to do a 1 day trip. I found a great trip on the website Viator. Check it out they have a lot of great ones.
After the trip, I was quite happy that we did the one day trip and that we only spent one day. You will agree with me if you ever visit because each town is quite small and can easily be seen and experienced in a few hours so staying several days if you're a little more adventurous like me… may bore you.
Day 10
Florence by Day and Afternoon train trip to Venice.
Day 11   Venice
We opted to stay at a hotel that was located outside of the main island of Venice. We stayed at the Anthony Palace Hotel.   The hotel was amazing! Very modern clean and offered a car service for a few Euro that took you to Venice main transportation hub. We took this early morning and then began exploiting Venice. Unless you are really into theater  or crowds on tourist in little tight space, I personally feel you can see and experience all that Venice has to offer in one day. By 6pm that evening we were all Veniced out and ready to head back to the hotel. We finished that evening at the spa and relaxing.
Day 12 Fly Home or Plan a Long Layover 
Our flight home had us stopping in Amsterdam with a 8 hour layover, so what did we do? Sit in the airport and read magazines? Get a massage? Nope! We took the train from the airport to downtown and went on a boat tour though the Amsterdam canals!   The train trip to the center of Amsterdam is approximately 20mins. Once you arrive you will see directly across the street a tour operators for these canal cruises. It's a great way to see the city if you are limited with time.  The tour last 1.5 hours and again well worth it if you have limited time like we did!
So there you have it my Italy in two weeks agenda. Italy is the type of country you can easily fall in love with. I do not recommend only going for 2 weeks, but if that is all you have then Italy in two weeks is possible and you will greatly enjoy it!
Happy travels to all!
P.S On my last Italy adventure of 2 weeks I visited these cities: Milan, Verona, Siena, Florence, Rome, Naples, Pompeii, Sorrento. That is a whole different itinerary will share later. Italy has so many places and cities to visit going for only 2 weeks it is impossible to explore everything, but it is sure better than not going at all!