How to take timeless engagement photos is something some of us strive for. I mean how many times have you come across an old photo of your parents or an old wedding photo and thought "WTH were you wearing?" I admit I have. I have also come across old photos of them or my grandparents and still look at them and believe they are beautiful. I do not consider myself to be very fashionable. In fact I think I lack a lot of fashion sense and often times I dress for comfort more than I do to be "in" on a fashion trend, but it doesn't mean I care to look like a slob! I love nice well fitted clothes and well made shoes. So the stress kicked in when I realized I had to plan my engagement pictures and live with them for life! I wanted a look that I can look back 20, 50 years from now and think "wow we looked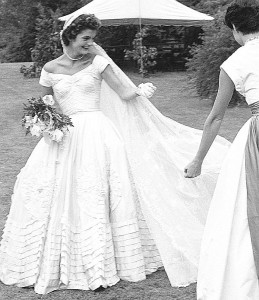 great!" I want to capture the moment of who we are and how we are right now. One of my fashion icons is Jacqueline Kennedy. Look at her wedding day look! Still looks good!
Engagement pictures can go and be done many ways. I have seen many beautiful pictures taken! Some are funny, use props, dramatic, formal, casual, with kids, with pets, you name it! Most importantly you have to do what YOU like and what showcases you and your fiancés personalities and preferences.
Here are some pictures showcasing different styles!
Casual & Symbolic Hometown  
With Pets
Formal
Cultural 
So determine the following for yourself….
What is your style
Are you and your fiancé people who love to snuggle up in sweats and watch football on Sundays? Go on hikes together? Dress up and enjoy a five star dinner? This helps you determine who you are and what style photos to take. Biggest mistake to do is to take photos that are not very representative of you. If your friends and family know you as the couple that love to spend weekends at the park and bbq the it may be weird to take engagement photos in a 3 piece suit at a museum smoking a cigar and drinking champagne….
What to wear
Look good, but look like yourself. I find it very interesting who people take engagement pictures and wear things that they would never wear on any other day or party. Wear what you feel the most sexy and confident in. Look good and do not be afraid of being cheap. These photos will forever be showcased in your home and in your story. Wear something you already own and love maybe a favorite watch or shoes or jersey. Buy a new outfit or rent one on sites like RentTheRunway. Ladies…. Do not cake on the make up! Professional photos are less forgiving on our skin and wrinkles so every little crease is noted and every layer of make up and powder you use is also noticed. Either lay it off or get your make up done professionally using airbrush make up. I got my hair done professionally, but since I have never been one to wear a lot of make up I decided to do it myself and wear my signature red lipstick. You chose what is best for you.
Favorite Places & Things!
For me it was easy. We love our dogs, we love the beach and he loves his hometown of New Orleans! We took our engagement photos at Del Mar dog beach in San Diego with our two Boston Terriers and in New Orleans. We also took a very whimsical dreamy shoot at a park in La Jolla. Click here to check out our full engagement photo session. Our Engagement Photos
xoxo – Adriana