From Charleston to Savannah this is a great 3 day itinerary to Charleston SC and Savannah Georgia with dogs! Yup I brought my little clan along for the vacation. Being in the architectural and design industry I have a love for great architecture and design so visiting these two cities was a little treat for me. This is an itinerary for 3 full days in southern hospitality of Charleston to Savannah. So the food lover and architecture and a little old world charm this is a great trip to take if you live in an urban area. In this trip we spent 2 days in Charleston to Savannah for 1 day. Unless you love old colonial architecture then Savannah, Georgia may just be a great day trip rather than an entire week or even a weekend.
A little bit of advice before I go into a suggested 3 day itinerary both these cities hotel pricing is rather high considering the size of the city and the lack of 4 star accommodations. In fact, the lack of hotel accommodations is what drives the prices up. You will find plenty of bed & breakfast and small hotel chains that offering lodging. I suggest going to sites like http://hotels.com or http://expedia.com to book a hotel.
2nd tip is if you are on a diet or cannot consume heavy fried foods then you may want to pack a lunch! Just kidding! Truth is the south is not known for "healthy" food and you will experience a major withdrawal of vegetables, salads and anything grilled or steamed. So be prepared and be warned. I am a foodie, but one thing I cannot do is fried foods so I had to find many alternatives to the fried foods.
Day 1- Charleston, Isle of Palms and Downtown
Morning – We traveled to Charleston with out two Boston Terriers, so it was a "family" trip. No I do not have many suggestions for things to do with kids I will share with you one place you MUST go to and bring your four legged kids to.
Visit James Island County Park. This dog oasis is awesome! I wish I could transport it to my home town so I have somewhere just as cool to take my puppies to. Admission to the park is a whopping $1 and parking is free. The park actually has much more than just a dog park with nature preserve, trails, beaches and places to play sports.  We came here in the early part of the day. Those are my two dogs in the pic the white one to the left and the flying black Boston Terrier.
If you do not havpuppies head to Folly beach which is just 5 minutes south of here. Folly beach is the more "popular" beach for tourist. Has a board walk and places to lounge and enjoy the sun.
Mid day- We headed north of Charleston to one of my favorite beaches Isle Of Palms.
On our way there we stopped to have lunch at one of our favorite fast food places that unfortunately  only exist in the south Raising Canes. Best chicken fingers ever!! My boyfriend is from New Orleans where it originated so we are a bit partial to it. Once at Isle of Palms I suggest heading to the north side of the beach anywhere north of  27th avenue but south or 41st avenue. Parking here is free and you can avoid the crowds and chill with the locals. This beach is dog friendly. Woof-woof! So my Buzz and Bella came along. The water was incredibly warm and just the perfect amount of waves to frolic in the beach or boogie board if you wanted to.
Evening– We headed to downtown Charleston and had dinner at Poogan's Porch, on Queen Street. I ate fried alligator here! WTH was I thinking?? The food and service were 5 stars! highly recommend making reservation or you will be waiting a long time. Hyman's Seafood restaurant is also a great place for low-country cuisine. Also be prepared for a long wait. The cool thing is they do hand out crab fish and other fried seafood to those waiting outside to be seated. After dinner we walked along the board walk near Waterfront Park  and enjoyed the calmness of the city. We happened to be there on a forth of July so we enjoyed the fireworks overlooking the Arthur Ravenel Jr. bridge.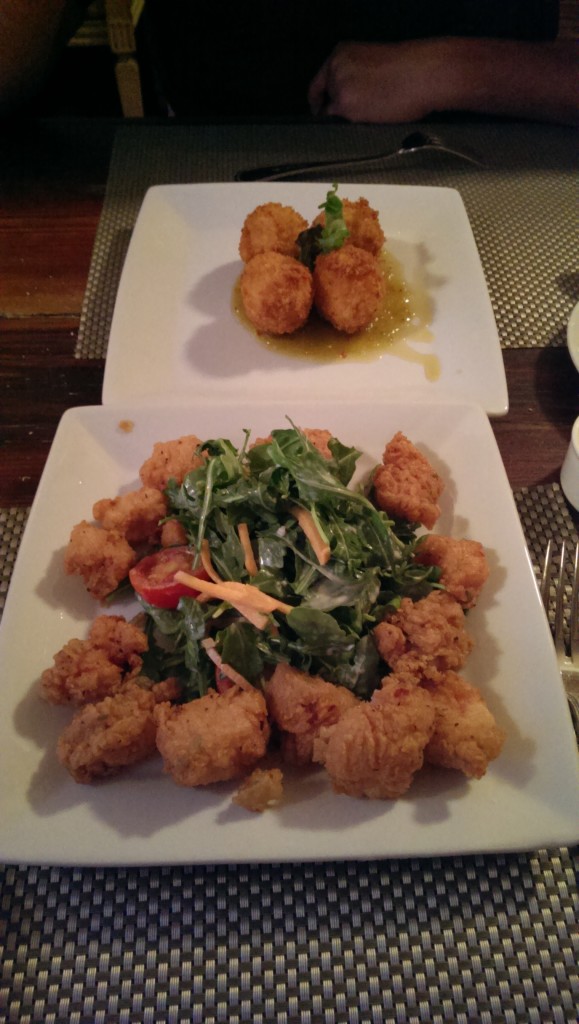 Day 2  – Savannah Day Trip
Savannah is approximately a 2 hour car ride from Charleston. It is an easy commute and on a holiday weekend we experienced no traffic. I recommend taking a tour around the city. We personally used Old Savannah Tours as our choice. Guess what? They are pet friendly! So our Buzz and Bella traveled along with us throughout the day.
This is a great choice to get in and around Savannah. You can get off and get back on at multiple spots throughout the city.  Make sure you take some time to stop and enjoy one of the beautiful squares. Drink a cold drink on a bench with someone as you people watch and take in the uniqueness and beauty of this little city.
Make sure you head down to River street and city market. Both are a  great place full of people watching, live music, gift shops, restaurants and more! We grabbed dinner here at the Shrimp Factory.
Day 3 – Isle of Palms and Charleston
 This days itinerary can be reversed meaning go to the beach during the day and Charleston in the afternoon. You decide but this is what we did.
Day –  We stayed in downtown Charleston and walked along King street which is full of specialty shops and places to eat. You will have plenty to see if you just relax and enjoy wandering around the city.  Head to Battery Park known for its beautiful homes that line the street.
Fort Sumter National Monument — the location of the official start to the Civil War — is accessible via the Fort Sumter Ferry Terminal on Sullivan Island (20 minutes from downtown Charleston).
Afternoon – We couldn't resist going back to Isle of Palms for more beach fun! We arrived this day to the beach around 5pm. I know kind of weird to go so late, but to my surprise it was still gorgeous outside! The water was incredibly warm in fact we stayed and swam until the sun was setting. What can be more romantic than a sunset at the beach?? Not a whole lot!  Afterwards we headed to the cutest little cantina south of Isle of Palms to Sullivans Island called Taco Mamacita. It doesn't beat my southern California Mexican tacos, but it wasn't bad at all. The atmosphere was great and it was a wonderful way to end a nice 3 day vacation to the area.
Remember to EAT Well and TRAVEL Often! 🙂 The Nguyens!