Few places in the world are as romantic, interesting and outright experiences than the city of Rome. Whether you are an avid traveler or new to it, everyone should take sometime to visit the beautiful city of Rome. Follow my 3 day itinerary and if you stay a little longer check out our tips from Italy In Two Weeks.
You will be delighted to know that it does not take too much time or money to enjoy all of its beauty. I have had the travel bug since I was a kid when my parents took me to Hawaii. Since then, I have wanted to explore the world. My 3 day itinerary below is if you are flying from JFK, but I am sure any other departure city has great nonstop flights to Rome.
Flight Day
I suggest taking a non stop overnight flight. When flying from North America into Europe you will arrive to a rise & shine of Roman air. We took an evening flight out of New York JFK to Rome Fiumicino. As per experience, I would highly recommend exchanging money at the airport or check with your local bank if they have a partnership with an Italian bank for free or low percentage fees on money exchanges. I learned the hard way, did not exchange and then I was in a sudden desperation to find a currency exchange place which of course ended up totally screwing me with 7% commission! So make sure you have Euros.
DAY 1
Arrive in Rome
At the airport you can catch any of the white certified taxis at all exits. There is a flat rate to get you anywhere within the Roman Walls (downtown). Check with your hotel if they offer free or discounted shuttle service pick up from the airport. Once you have settled into your hotel, I would recommend using this day to do 1 of two things: 1. Hop on & off bus tour of the city or 2. Head to the Roman ruins & the Colosseum. We chose to visit the ruins & the Colosseum. One thing you will want to purchase is the ROMA PASS. This pass is great & highly recommended. It is 30Euro and gets you admission into any two museums or the ancient ruins/Colosseum package, unlimited use of Rome's public transportation which is very easy to use and on top of that, there are third party tour groups that offer you an additional discount with the pass. So if you plan on visiting two or more museums or sights on their website, it is well worth it. Learn more about the Roma Pass .
After settling in to your hotel, go to the ruins first. Check out the birthplace of this civilization. Secret Tip: On the south east exit right before you start making your way towards the Colosseum look towards your right and you will see some steps leading towards the Colosseum…. We discovered this gem ..empty..nobody around and an unforgettable view and photo backdrop of the Colosseum. Make sure to keep an eye on your watch as they close at 6pm and you will want to get into the Colosseum by at least 5pm at the latest to have at least 1 hour to view this masterpiece and take pictures. Why do I suggest going in the afternoon? Well two reasons: 1. Less crowded and 2. The sunset views and picture taking opportunities are unmatched!
DAY 2
Visit Vatican City.
…..here we are trying to sneak a pic in the Sistine Chapel…. 🙂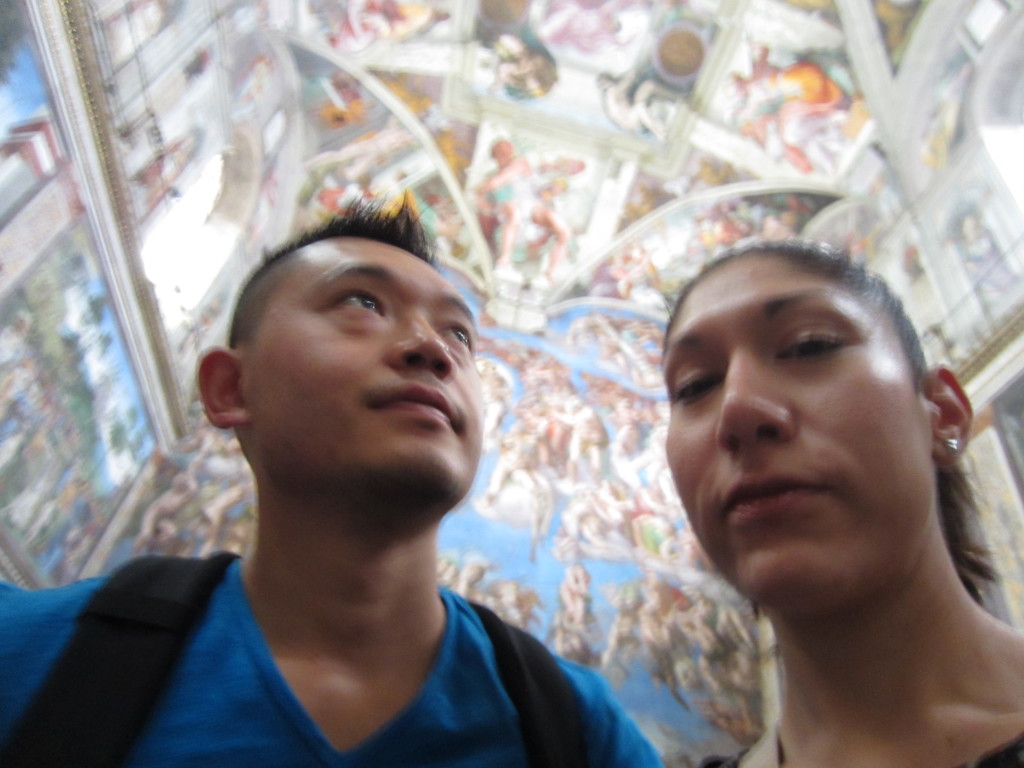 I suggest you pre book tickets online via this website to save yourself an hour at least of waiting in line to enter the Vatican Museum. Click here to get tickets.
I suggest you book them for the earliest time slot as crowds only grow as the day continues.
We booked ours for 10am. It takes about 2 hours to go through the entire museum which culminates at the magnificent Sistine Chapel which is just breath taking!
After the museum, if you decide to get tickets or stand in line you may enter the St. Peters Basilica. It is free to the public and also worth seeing. The square alone is impressive with its sheer size.
From Vatican City we headed south to an area called Trastevere which literally means "beyond the river" It is just crossing over the Tiber river what Romans like to call there version of NYC "SOHO". Cobblestone lined streets, cafes and bar! Best recommended for an afternoon and evening stroll.
This evening you should do like the Romans and head for the streets! Rome dresses up for the evening. It is my favorite time of the day! There is something so special about seeing its main attractions light up. We did a night stroll as per Rick Steves "Travels In Europe" Rome book. Highly recommended! Here is a helpful link to it http://www.theculturebite.com/2010/06/21/rick-steves-rome-2010-night-walk-across-rome/
We culminated our night walk with enjoying dinner at one of the many great restaurant with outdoor seating offering plenty of people watching opportunities!
We hardly ever travel alone! We either go with family, friends or join a group! So much fun to experience the world with people you like!
Day 3.
We started this day at the northern part of the city at the Spanish Steps where we climbed to the top to enjoy a beautiful view of the city and all the shoppers. The Spanish steps has a view overlooking one of Rome's most high end shopping district Via Condotti. Here you will find all the top designer stores. Even if you are not in the market to buy anything, it is worth the window shopping!
I recommend you use this day to do your shopping. Can not leave Rome without something! This is also a good day to view certain sites like Trevi Fountain by day, as you may have only seen it by night on your night stroll.
We culminated our last day in Rome by doing a segway tour that took us to some behind the scenes lookout points that only the Roman's would know of. You can learn more about the tours offered at http://www.romebysegway.com/site/Tour_in_Rome_by_Segway.php We did the Imperial evening tour. The sunset views from some of the locations it takes you to our unforgettable. Can you tell I adore sunsets???