This past Christmas my husband and I spent 3 days in the central California area known as Big Sur. I am sharing our travel tips geared towards travel with kids as we were traveling with a 2 year old and an 8 month old. Hope you get something from it. I welcome any questions and comments. 
The drive from San Diego is just shy of 7 hours. I know what you are thinking…."7 hours in a car with two kids! Are you F ing crazy!" Maybe, but we had no other choice. Travel by air to this area is complicated and we would need to lug around 2 car seats, still rent a car and deal with 4 total hours of security & waiting at an airport. As you can see, we just drove. Load up the tablet with YouTube videos and snacks for the road and we were off. 
Day 1
We took highway 1 from Cambria all the way up to Monterey. This stretch took us a little under 2 hours. If you are prone to motion sickness, you may experience a bit of it as the roads are one way winding, but it is GORGEOUS!
Big Sur
Stopped at a restaurant called Nepenthe. This was a total surprise. Beautiful view, bathrooms (no changing tables) a cute cafe and gift shop. The view was gorgeous and a tranquil place to stop after all that driving.
Photo opportunities at McWay Falls & Bixby Bridge.
Night Monterey
We stayed at the Marriott Monterey and had dinner at Rosines Italian restaurant . The food there was delicious!
Day 2
Monterey Aquarium– LOVED IT! I know that at almost $50 a person for adults and kids over 3 pay it could be hard for most families to go, but if you can stretch your dollar, I total recommend it! The exhibits at the aquarium are some of the best I have ever seen and I've gone to quite a few.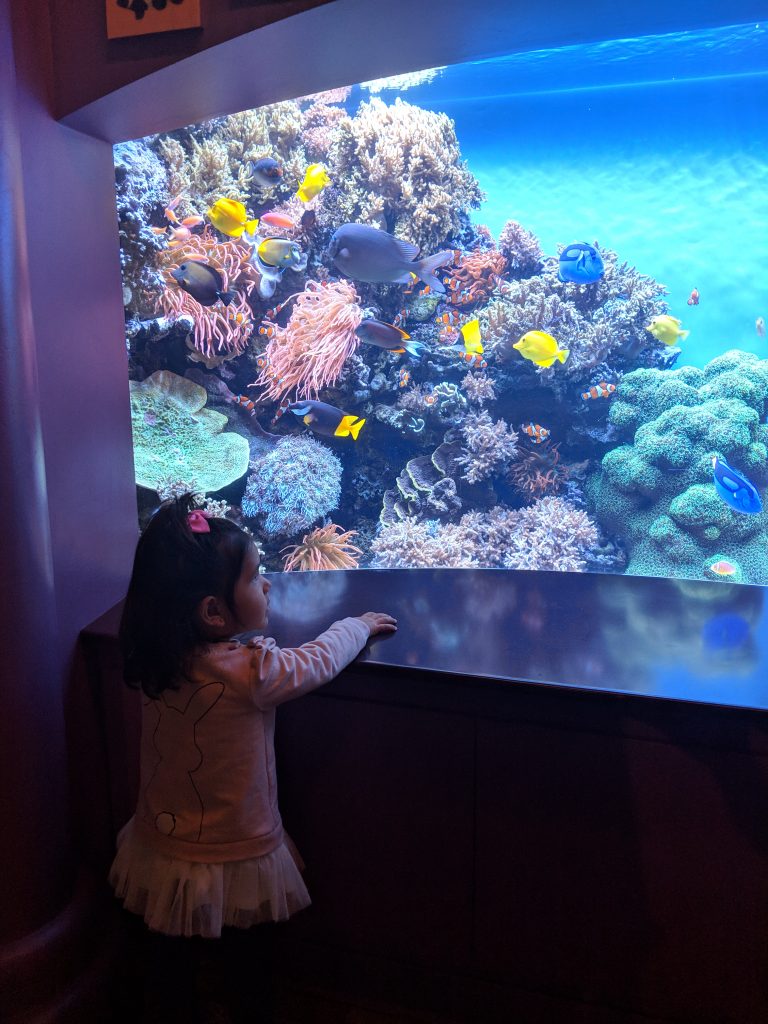 Cannery Row– The aquarium is right in this area so walking this area right after or before is convenient. Lined with souvenir shoppes, seafood joints and other cute shoppes!
17 Mile Drive/ Pebble Beach– We then headed to the start of the 17 mile drive. It is about $10 per car, but again worth it. The scenery is gorgeous which makes for awesome Instagram worthy photos. The whole drive took us about an hour or so to complete. This is with us stopping often.
Carmel By The Sea– It is just a short distance from the end of the 17 mile drive. We headed to Ocean drive the downtown area and ate at a very good Greek restaurant called Dametra.
After dinner, we walked down to the beach just in time to play in the sand and watch the amazing sunset.
Day 3
Roaring Camp Railroad- This camp is in the Henry Cowell Redwoods State Park national park about an hour north of Monterey. My daughter is totally into trains so I had come across this railroad through a travel group and knew I wanted to bring her. The ride is on an old steam engine open air train which takes you up the mountain. The ride is about an hour and half round-trip. Bring snacks and check the weather.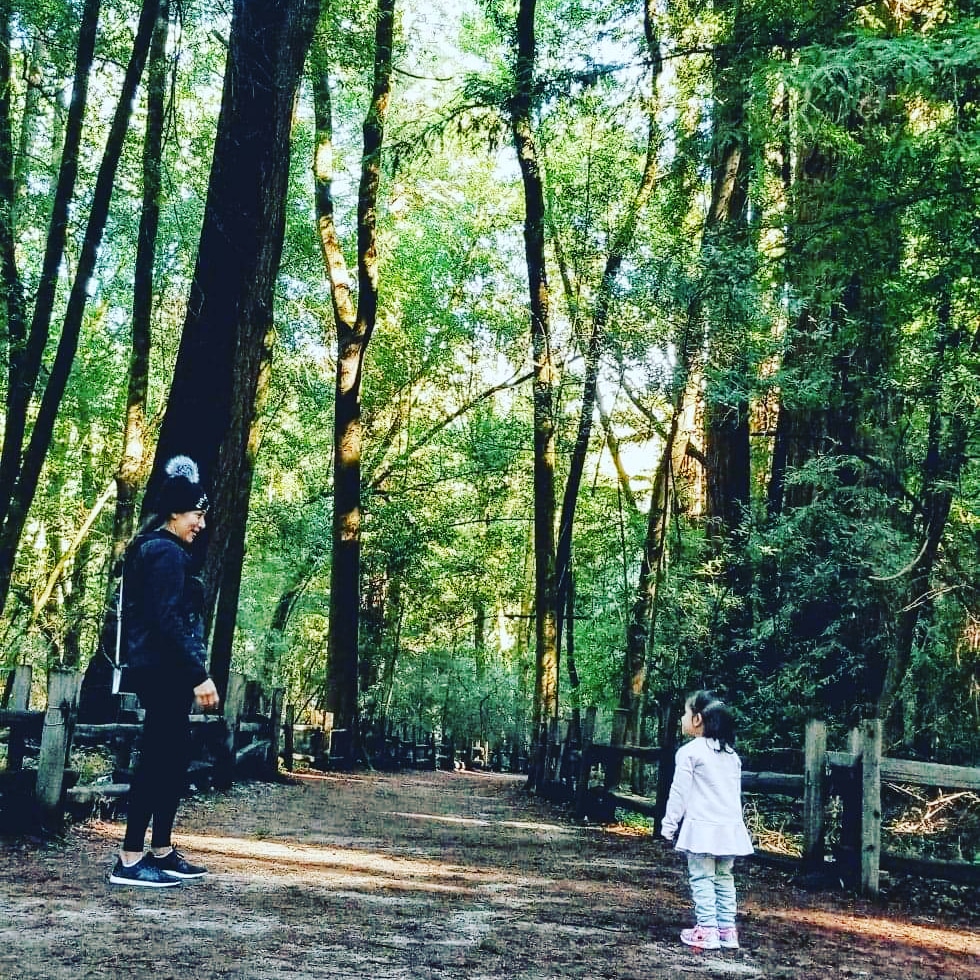 Santa Cruz Boardwalk– I lived in New Jersey for several years, and this boardwalk was impressive! It rivals the East Coast boardwalks. Super cute! Lots of rides and carnival game booths.
Fisherman Warf Monterey– Came back for an afternoon stroll and dinner. This pier is lined with your typical tourist souvenir shoppes and restaurants serving mediocre food.We fell for the tourist trap and had dinner here. Nothing spectacular, but again, you eat for the sake of eating and the ambiance.
Day 4
Dennis the Menace Park – Super cute and well thought of park in Monterey. It was designed by the creator of the hit TV show…no wonder it is so well thought of. It is a kids paradise! If you are between 1 and 100 you will like it. Cute view of a man made lake with ducks. You can rent little boats to ride and the park offers endless options for kids.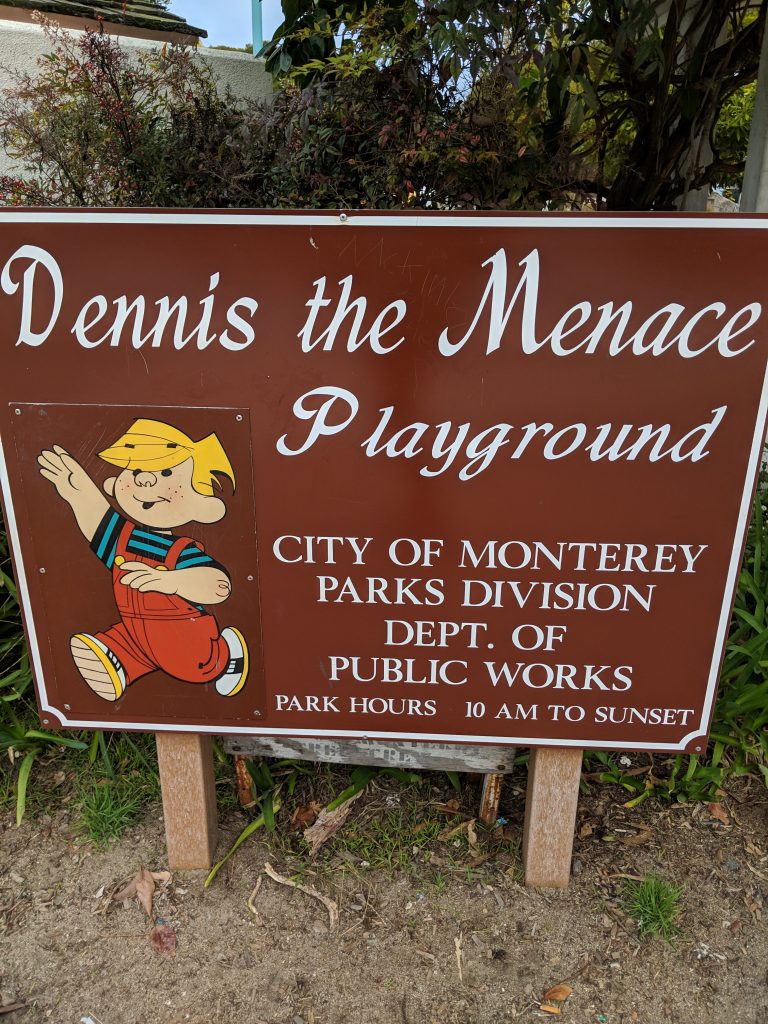 After a morning at the park, we checked out of our hotel to head back. Overall the trip was a great option for a long weekend getaway.