I promise I am not turning into bridezilla…but I sure am having fun being a bride to be! Let me share with you two quick and easy DIY ways to ask your girlfriends to be your bridesmaids. Here are two cute DIY ways to ask bridesmaids to be a part of your special day!
One is your very own Bridesmaid "Pop The Question Diamond Ring" and the other is a "Message In a Bottle"
First,
I scored these super cool paper weights that look like diamonds! Who doesn't like diamonds!!


They already came in a cute little box so all I had to do is write a personal message on each one of them.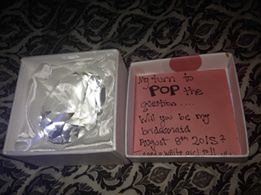 The message in each diamond ring was:
" My turn to POP the question… Will you be my bridesmaid August 8th 2015??
Second I decided to send my cousin who I was asking to be my bridesmaid not just a card and I didn't just want to pick up the phone and ask her or ask her when I saw her… I got the idea of "message in a bottle" when I spotted these cute glass bottles at Michaels craft store.
I then used Microsoft Word to type out my message. Mine was this…. I used different fonts.

Lastly… after picking up some sand from my local beach.. yes people I DID go and pick up some sand from the beach and adding a few gems to it I put it all together and wahlah!